"Small rooms or dwellings discipline the mind, large ones weaken it." – Leonardo Da Vinci
If you own a small kitchen, you have the opportunity to showcase your own personality and individuality in a space that can be very comfortable and efficient.  Small kitchen are easy to clean, but can be difficult to keep organized.  However, this task is made easier when the workspace is organized as zones so movement between these works paces are easy.  Therefore, an effective small kitchen has three basic  elements: organization, storage, and space.  A small kitchen  therefore has a lot of potential and can also reflect the homeowner personality and character through the use of colour and design elements.

Generally, the colour white is used in many small kitchen, with a little black (for a minimalistic feel). However, you can add flair and personality to your kitchen with the splash of a bright colour. 
Here are some ideas on how your personality and character can shine through your kitchen.
The Refrigerator.
The size of the refrigerator should fit your needs and the space of your small kitchen.  A small refrigerator will mean you free up space for an extra counter, cabinet and workspace.  Let your personality shine with the color of your refrigerator.  The Smeg Style Refrigerator is one of the brands that come in many colours; one might suit your kitchen.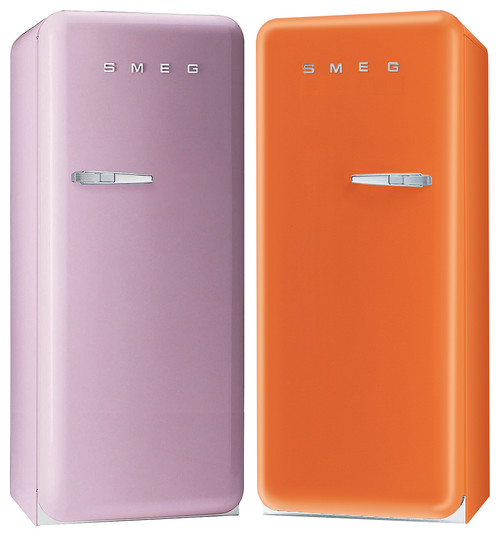 Cooktop and Oven.
Your cooktop and oven can become your central focus.  Again a smaller-sized two- or four- burner stovetop works best in a small kitchen.  Select a stove with a visual appeal.  The Bertazzoni Professional Gas Range suits any contemporary style.  This attractive gas range comes in a wide range of beautiful colours.  Its compact design is perfect for small kitchens. Another is the Stoves Mini ranges.  Their brilliant makeover is available in selection of gorgeous shades from Day Break, Wild berry, Icy Brook, and Hot Jalapeno,.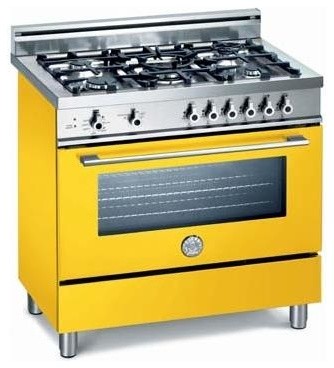 Richmond 55cm Mini Ranges are now available in selected shades from the Colour Boutique collection.
Colourful stoves like the New World Colours Collection of built-in ovens can become the central focus in your kitchen.
Photo from: www.appliancist.com
The Kitchen Sink.
The kitchen sink has the potential for keeping the small kitchen organized and clutter-free.  Select a kitchen sink that has a deep sink, however not to deep to strain your back.  Also consider the size of pots you already own and how you cook to help you select the kitchen sink.  An apron front sink such as the Kohler single basin is perfect for a small kitchen which is deep enough to provide ample space to hold dirty wares until you are ready to wash them.
The kitchen faucet.  Making things easy in the small kitchen is important.  Thus, a high-arc faucet, with a single handled faucet lever, helps to wash large pots and pans that are placed in the sink easier.
Above is the Delta Single Handle Pull-Down Kitchen Faucet with Touch2O Technology and Soap Dispenser.
The Pegboard. 
This ingenious idea was inspired by Julia Child's husband.  This is a chic way to keep regularly used utensils organized, and other kitchen items.  The organization makes an attractive wall.  The pegboard is a hassle free storage idea and the mounting hardware is versatile, durable and attractive.
A Round Table.
A round table in a small kitchen provides maximum leg room There are a number of styles and colours you can choose. Some round tables can be complemented brilliantly coloured chairs.
This Retro Nostalgic Style Chrome Plated Round Dining and  Red Finish Dining Chairs are perfect for homeowner who love designs that reflect the 50's
. 
This white LexMod Dining Table adds a sleek look to a small kitchen and can also be complemented with colourful chairs and stools.
Accessories.
Some accessories can make bold statements in a kitchen and also have high quality craftsmanship and durability for use.  Here are some examples.
Finally don't forget to place some colourful dishes on those open shelves.  They can add beauty and interest to any room.